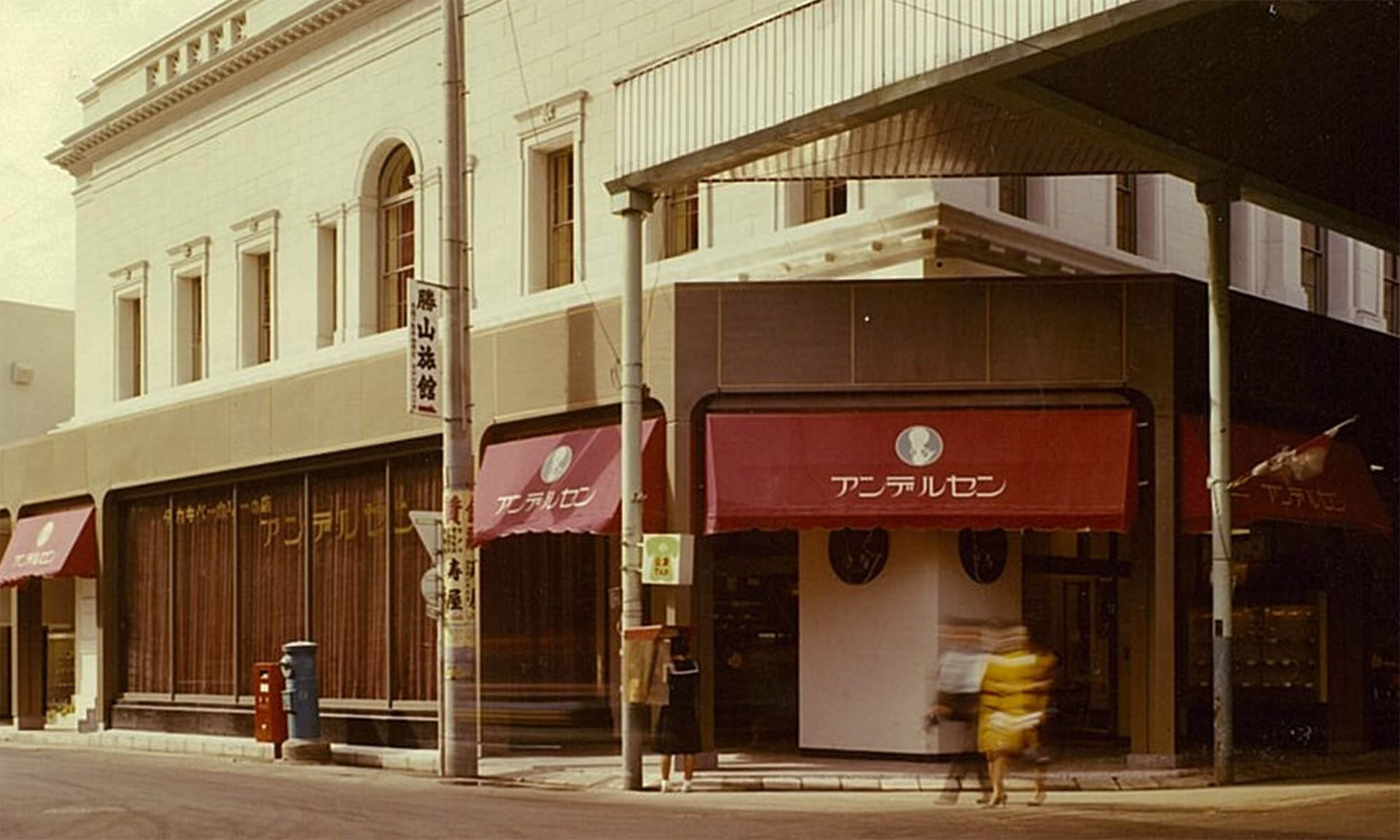 A History of Hiroshima Andersen
"Bringing joy and happiness to our customers' tables"
Since the founding of our business, Hiroshima Andersen has consistently sought to aspire to this ideal in order to achieve its unchanging ambition. Each and every step we take becomes part of the history of Hiroshima Andersen, the Andersen Group's prestige store. Hiroshima Andersen will continue to pursue these goals now and forever.
"Creating New Things by Making Good Use of Old Things"
— The Birth of Hiroshima Andersen
In 1967, Hiroshima Andersen opened in Hiroshima city as the first "Andersen" store. The building itself was originally built in a historic Renaissance style in 1925 to house a bank. It was one of the few structures to survive the atomic bombing of 1945 near the close of World War II.
Despite their acquisition of the building, Shunsuke Takaki and his wife Akiko, Andersen's founders, were initially uncertain as how to make the best use of the property. During an exploratory tour of Europe, they visited Italy and were exceptionally impressed by European ways of thinking, in which through the preservation and care of old things new creations could emerge imbued with the character and ambience of tradition. Consequently, they decided not to demolish the building but instead to renovate it and use it in the service of their business. Thus "Hiroshima Andersen," a complex of bakery shop and restaurant, was born.
"Bringing Joy and Happiness to our Customers' Tables"
"Bringing joy and happiness to our customers' tables" has always been our persistent aspiration since the opening of Hiroshima Andersen. The name "Andersen" is derived from that of the Danish writer Hans Christian Andersen. Just as Hans Christian Andersen awakened the dreams and hopes of people through his fairytales, we also seek to deliver joy and happiness through bread, and that aspiration has been passed down from its inception to the Andersen of today. Our store features a comprehensive lineup of products for enjoying bread. Not only do we serve bread and western style sweets that augment and enrich your culinary culture, but we also provide a wide variety of other products to enhance and accessorize your table, including delicatessen items and meats, such as hams and sausages, ice cream and even flowers. Moreover, in our ongoing efforts to foster culture in Hiroshima, we later opened a baking school and an adult education center which features a variety of cultural seminars, lessons and workshops for flowers, wine, embroidery and children's stories.We continue to make suggestions that promote enrichment for our lives.
"Always Modeled After Denmark"
In 1959 Shunsuke Takaki, the Andersen Group's founder, first visited Europe, the epicenter of bread culture. While at breakfast at a hotel in Copenhagen, he had a life changing experience when he tasted Danish pastry for the first time. Takaki was immensely impressed by its delicious taste, and upon returning to Japan he immediately undertook the development of his own Danish pastry, spurred on by a passionate desire to introduce this delicacy to the Japanese people. He spent about three years learning the authentic manufacturing methods to achieve the genuine flavors of Denmark, and in 1962 he launched the sale of Danish pastry for the first time in Japan. Danish pastries were not the only source of inspiration for Takaki during his first visit to Denmark. He was fascinated by the Danish way of life itself, the free and easy independence enjoyed by individuals, their spiritual values of rationality, emphasis on the essential, and a tangible compassion for others. "I felt that this nation had more to offer than just high quality products, that they set a laudable example for the way business should strive to be conducted," Takaki said later. Since then, we have persistently taken Denmark as the paragon upon which to model our corporate activities.
Hiroshima Andersen held its first Danish Fair in 1968 through which we continued to introduce Danish culture, lifestyle and cuisine. In 1981, Her Majesty Queen Margrethe II and His Royal Highness Prince Henrik of the Kingdom of Denmark visited Hiroshima Andersen. It was a moment when our aspirations to achieve the Danish model were validated. Furthermore in 1986, by continuing his business activities modeled upon the Danish example, Shunsuke Takaki, our founder, was appointed as the Honorary Consul for the four prefectures of the Chugoku Region by the Kingdom of Denmark. Subsequently, Seiichi Takaki (then Vice President) was appointed to this post in 1992, as was Akiko Takaki (Mrs. Seiichi Takaki) in 2019.
Toward the Next Stage
Since opening in 1967, Hiroshima Andersen has consistently sought to "bringing joy and happiness to our customers' tables." We decided to dismantle and rebuild the building in order to realize this unchanging ambition for future generations in the years ahead. The new Hiroshima Andersen opened in August 2020 and has taken a brand new step toward the next stage.